Rain Barrels Available
By VALARIE ALLEN
CNA staff reporter
Recycling rain isn't a new concept, but rain barrels from recycled products are now available at a local industry.
Social networking at a Women in Business luncheon with,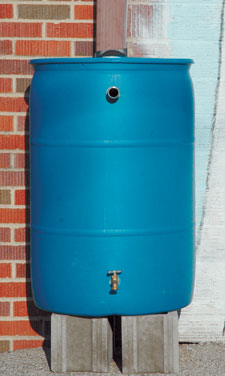 an update on the Hurley Lake/McKinley Lake project led to a discussion about a rain barrel project in Milwaukee, Wis., according to Creston Chamber of Commerce Executive Director Ellen Gerharz.
Innovative Industry, 215 N. Walnut St. has a new product for sale.
Plastic barrels donated by a local food manufacturer are being fitted for use as rain barrels by clients at Innovative according to Innovative Industry Marketing Manager Jason Davis.
"Ellen told us about the rain barrels, they were being used by the Milwaukee Metro Sewer Department," said Davis. "I called and talked to them and got the information on how to make them."
The barrels are drilled through the top for a gutter fitting for standard downspouts. A standard garden faucet is added to the bottom for filling buckets or attaching a hose.
"They told us the barrel works best if it's placed on two concrete blocks," said Davis, "That brings it to a higher level, which helps the gravitational flow of water."
The faucet is placed high enough on the barrels to allow for any sediment to settle.
The donated barrels are food-grade quality, which means there were no harmful chemicals stored in them.
Gutters may have to be cutoff if they extend to the ground in order to for them to fit into the barrel and placing the barrel on concrete blocks are the only adjustments needed.
"They're a good idea for watering gardens and flowers," said Charles Warner, Innovative Industry client who is outfitting the barrels. "You can save city water by using the barrel."
Rain barrels have been placed at the Creston News Advertiser for the public to see how they are set up.
Creston's Parks & Recreation department initiated a project in 2005 to restore McKinley Lake to a condition suitable for recreation. Water testing throughout 2006 showed that Hurley Creek and therefore, the lake had some serious water quality problems.
The City is experiencing growth/development in the northwest corner of the Watershed. The completion of this development will increase the percentage of the Watershed considered urban. This development is also expected to increase storm water flow levels.
The northern border of the Watershed drains into the Hurley Creek Lake. The Hurley Creek Lake drainage is considered the beginning location of Hurley Creek. This creek meanders in a southwesterly direction through Creston and empties into Lake McKinley. The water from Lake McKinley ultimately drains into the Platte River.
Barker Lemar used stream visual assessment protocol (SVAP) to perform an assessment of Hurley Creek in November 2006 and the spring of 2007. The assessment identified specific locations of erosion, discharge pipes, illegal dumping locations, and areas of animal access. This information was collected using geographic information systems (GIS) and global position system (GPS) technologies.
Barker Lemar met with several key stakeholders to discuss the project and what services they may be able to provide towards the improvement of the water quality. These key stakeholders are listed below in alphabetical order:
Creston Iowa Park Board

Creston Livestock Auction, Inc.

Iowa Department of Agriculture and Land Stewardship

Iowa Department of Natural Resources

Iowa State University Extension Office

National Resources Conservation Services

Southern Iowa Council of Governments

United States Department of Agriculture
Barker Lemar also received water quality data that was collected in 2006 by IOWATER volunteers to assist with the assessment. A total of 92 samples were collected at eight (8) locations from April to November 2006.
Barker Lemar presented the results of the performed assessment, water quality samples, and results of the stakeholder meetings during the April 24, 2007 meeting. These results identified three main categories of concern:
High E. coli levels;

Severe erosion; and

Storm water flow management
These findings lead Barker Lemar to develop recommendations to improve the condition of the identified categories of concern. The recommendations were categorized by five (5) types: